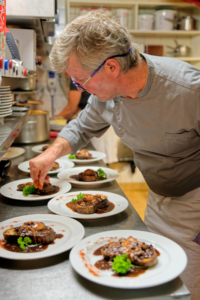 Maurice cooks with passion and generosity. He proposes dishes composed of local products, that he personally looks for at his favorite producers or that he cultivates in his garden.
Summer and winter, you will enjoy our exceptional terrace, facing the mountains and the ski slopes.
We welcome your group meals or family celebrations up to 120 people. Contact us to receive a personalized offer.
Maurice gets his supplies from local producers, only a few kilometers from the Auberge.
The emphasis is on fresh, seasonal products made by enthusiasts.
Salads
Mixed Salad – Small: CHF 8
Mixed Salad – Large: CHF 17
Green salad: CHF 8
Country Salad: CHF 22
Warm goat cheese salad: CHF 26
Soups
Vegetable soup: CHF 8
Tomato soup: CHF 8
Pastas
Pasta Bolognese sauce: CHF 18
Mountain macaroni, salad: CHF 26
Omelettes
Plain omelette : CHF 11
Cheese omelette: CHF 14
Omelette with ham: CHF 15
Omelette with ham and cheese: CHF 16
Roestis served with a salad
Plain rœsti: CHF 20
Bacon rœsti: CHF 25
Cheese rœsti: CHF 24
Rœsti with ham and cheese: CHF 26
Extra egg : CHF 1
Our suggestions
Mushroom polenta: CHF 26
Served with a salad
Mushroom crust: CHF 25
Served with a salad
Ham on the bone, gratiin dauphinois, vegetables: CHF 26
Homemade snails
6 pieces: CHF 12
12 pieces: CHF 22
Kids menu
Chicken nuggets,fries: CHF 10
Veal sausage, fries: CHF 10
Ground beef steak, fries: CHF 10
French fries: CHF 8
Ham and cheese escalope, fries: CHF 15
Meats
"Charcoal grilled premium meats"
Chef's favorite
(with mixed salad, vegetables and fries)
Beef entrecote: CHF 47
Pork chop: CHF 33
Veal chop: CHF 45
Tartare 200 g, toast and fries: CHF 35
Valais specialities
Valais plate: CHF 28
Dried meat plate: CHF 29
Cheese crust: CHF 21
Cheese crust, ham: CHF 23
Cheese crust, ham, egg: CHF 24
Valais crust: CHF 27
(potatoes and dried meat)
Extra egg: CHF 1
Cheese Fondue: CHF 25
Green Pepper Fondue: CHF 26
Fondue with tomato: CHF 27
(served with potatoes)
Fondue with mushrooms: CHF 28
(served with potatoes)
Cheese raclette
Per plate: CHF 5
All you can eat: CHF 30
Small plate of cheeses: CHF 14
Large plate of cheeses: CHF 20
Desserts
Various homemade pies: CHF 5
Ice and cream supplement: CHF 2
Crème brûlée: CHF 9
Discover the Valais wines with our selection of wines by the glass